Drs. and Their Computer Books
Update: Removed the now expired video clip from Hulu
I've started watching a new summer show on Fox: Mental.  It is has been somewhat intriguing thus far.  It is, however, formulaic:  Dr. solves problems in an "hour", but can't solve his own problem(s) during a season or ever on the show. (Think House, another Fox show … which I enjoy because Dr. House is such a jerk.) [You can catch both shows on Hulu.]
In the second episode of this inaugural season of Mental, the two residents are sitting down for lunch in the hospital doctors lounge. As Dr. Suarez sits on the couch next to Dr. Artis, the camera pans to catch the coffee table in front of the couch. Here is the screen capture: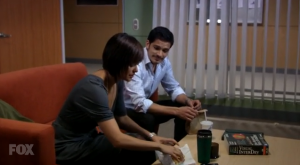 Dr. Artis, Dr. Suarez and the Book
You may want to click on the image to get a better view, but check out the book.  That's right …. a 1997 Que, Special Edition of Using Microsoft Visual InterDev.  Now I know there are Drs. out there who have development skills.  In fact, my kids' pediatrician is one.  He and I have talked about his hacking on his office's Patient and Records system, customizing and writing extensions.  But why would any prop or set person drop a 1997 Visual InterDev book in this scene?  And even worse the book was horrible, I had it at a previous job. You don't have take my word for it, check out the reviews on Amazon.
---